Another Stunning Sunset At Rondekuil
Posted on Thu May 12, 2022.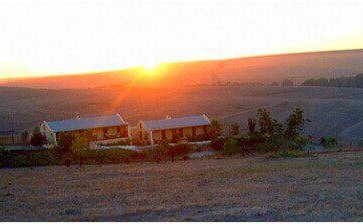 Mid-summer at Rondekuil Country Estate offers a distinctive and unique experience to our guests. The days are long and lazy, the air is dry and warm and the peace and tranquility experienced all play a part in creating a memorable getaway experience.
The green landscape enjoyed during our winter months turn into a golden vision during summer, offering visitors and guests a different element of life in the country.
As is the case each evening, my wife and I take our dogs for a walk, sometimes down to the river, other times along one of our many country pathways, and last night was no exception.
The wind had died down and the harsh heat of the sun had subsided as we strolled out of our garden gate with the dogs.  We found ourselves walking down one of the many pathways, and couldn't help but marvel the wonderful sunset.  We stopped and watch the sun say goodbye to yet another lovely summers day, and realized once again what a wonderful escape the Rondekuil Country Estate is for those seeking break-away self catering accommodation, just 10 minutes drive from Durbanville.
Both bed and breakfast accommodation, as well as self-catering accommodation are on offer.
Visit our up-dated and re-vamped website for more information : www.rondekuil.co.za.
Our website also offers more information about our wedding and conference venue which we have for hire. The venue accommodates up to 130 guests and is proving to be very popular.  Guests can sip their drinks on the balcony, while watching yet another glorious sunset with un-interrupted views stretching  through to Table Mountain.   The views from the venue alone make it worthy of consideration, but we also offer a cash bar, secure parking, and of course, the venue is fully equipped for catering purposes.
Avoid disappointment, and enquire now about our winter specials, and the other benefits associated with the hiring of our unique wedding and conference venue.