The Rondawel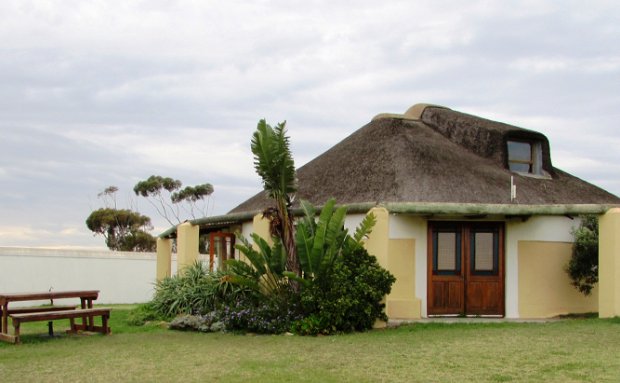 Bring the whole family along!
If you are looking for cosy accommodation options to spend some quality time with your family, this is the perfect option!
The Rondawel comfortably accommodates 6 guests. The unit offers a main bedroom with an en-suite bathroom, two other bedrooms along with a family bathroom. The open-plan kitchen, lounge, and dining room area, provide comfortable space for entertainment and relaxation. Decorated with an African theme, guests will feel right at home here.

The kitchen is well equipped and includes a stove, oven, microwave oven, refrigerator, toaster, and kettle. A stainless-steel braai/barbeque unit is provided for an enjoyable braai/barbeque.The Rondawel is surrounded by an extensive enclosed garden area, with much of the area comprising lawns, where guests can relax on recliners and enjoy stunning views of Table Mountain, the Koeberg and the surrounding countryside. This is also an ideal space for children to play.
Rates
The Rondawel
R1000.00
One Guest
Per Night
R1700.00
Two Guests
Per Night
R1900.00
Three Guests
Per Night
R2100.00
Four Guests
Per Night
R2300.00
Per Night
R2500.00
Per Night

The above rates are only a guideline. Rates are subject to change during peak summer, off-peak summer and low winter seasons. The rates given above are for the 2023/4 off-peak summer season and are applicable from 1 September 2023 until 31 May 2024. A small premium might be charged for weekends.
Booking Terms
Cancellation Polcy
Cancellations made days before booking check-in date : Percent forfeited
0 to 7 days : 100% of total booking cost
8 to 14 days : 80% of deposit
15 to 28 days : 40% of deposit
29 to 56 days : 20% of deposit
Please note: Refunds are made within 7 days AFTER the guest departure date given on  the cancelled booking.