Durbanville: Things to Do and Places to See
Rondekuil Estates in located in the country, only a 10 minutes pleasant drive to Durbanville, which is situated North of Cape Town in one of the fastest-growing areas in the Western Cape, South Africa. There is a wonderful mix of modern and old-world charm, and is the ideal place for visitors to stay looking to be close to Cape Town, while absorbing the peaceful surrounds of the town.
Enjoy leisurely, safe and pleasant walks on Rondekuil Estates and swim and relax near a pool. Become a "business nomad" and run your business over the Internet with good, fast WiFi being available at Rondekuil at no cost to you. Bird watching is a relaxing pastime and there are many varieties of our feathered friends to be seen on the farm. Rondekuil and neighbouring farms provide a mountain bikers paradise in a beautiful pristine countryside.
There are many beautiful things about this old town, but the highlight must be to see the picturesque historical buildings dotted around, accentuating the Cape's Colonial history.
An excellent shopping centre, the Tygervalley Shopping Centre is a short drive away, while the main highways into the various surrounding areas are minutes away, making Durbanville conveniently situated for both business and leisure activities.  The newly developed Tygervalley Waterfront, is a must see for any visitor to the area.

In this part of the world lies a closely guarded secret, the Durbanville Wine Route.  Rust en Vrede : The building dates back to 1850. It was originally a prison.  Today, it has a coffee shop, hosts the local craft market (held on the first Saturday of every month), a Clay Museum and an Art gallery.
Durbanville Nature Reserve : Lovely picnic area, amongst the unique fynbos.
Onze Molen (a restored mill).
King's Court (a 1905 residential building).
Rondekui Estates and Durbanville is situated within minutes from the main highways into the Cape Town city centre and the Cape Boland Towns making it conveniently central to both business and leisure activities.
Talent abounds in this industrious town. From potters to manufacturing jewellers, winemakers, cheesemakers, quilters, artists, prize gardeners, taylors, medical specialists, photographers – you name it … in Durbanville you're sure to find it.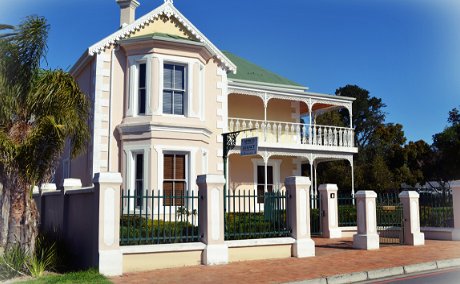 King's Court on Church Street
This is possibly the best remaining Edwardian gentlemens' residence in the Northern Suburbs and has been subjected to restoration of high quality by Dr Kings Court Durbanvilleand Mrs Smook and was declared a National Monument on 12 May 1989. The first owner was Mr King, the following Andrew Murray.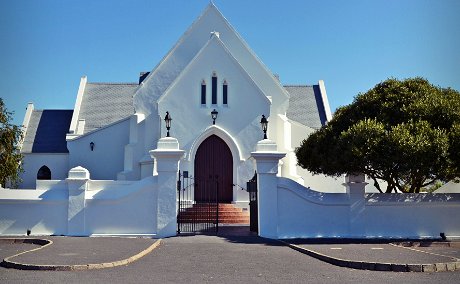 Dutch Reformed Church Weyers Avenue
This National monument was built in 1826. It has undergone several changes since the early days, including the extension of the front porch in 1859, enlargement in 1891 and a new bell in 1903. It was extensively restored in 1974/5 before being declared a National Monument on 29 August 1975. Visitors wishing to see the inside of the church must make an appointment.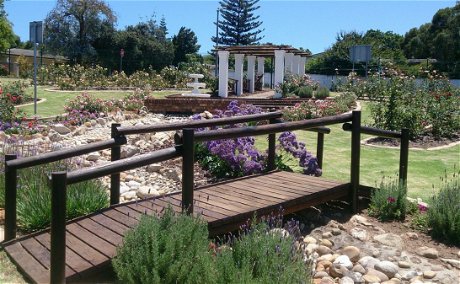 Rose Garden Situated on Durban Road
This 3.5ha park with its 500 different varieties of roses, is open to the public daily (entry is free) and with its 4 500 rose bushes puts on one of nature's most incredible annual floral spectaculars one could ever wish to see.
Durbanville Nature Reserve
The discovery of a small patch of Aristea lugens, a member of the Iridacea family (long thought to be extinct), by Mrs R Linder, Dr W P O Jackson and Prof A Barnard, while walking on the common near the Durbanville racecourse in 1960, led to the National Council of Women's resolution to establish a nature reserve in the area. The Town Council was approached and 4 hectares were made available.
27 Church Street
A double-storied Edwardian building dating c1900 with two projection wings and a double-story verandah on two sides. The verandah has fine cast-iron columns and brackets and has recently been restored.
Police Station
The police station was built in 1919 and is typical of the Cape Dutch revival architecture of its period. A single-story, U-shaped building with wings and tall Flemish gables and arched verandahs between the wings.
The Synagogue
The old Synagogue situated at 6 Church Street, is a simple double-story building ornamented in the Byzantine Rivival style with a straight iron roof and a triangular front gable. The side windows and upper floor front windows have rounded heads and small panes. The side walls are buttressed. The front wall has rustic plaster work and the set-back porch has side pillars and double front doors with glazed circular windows. The original building dates from c1875 and served as the Dutch Reformed Church hall of which only the walls and floor structure remain. It was rebuilt as a synagogue about 1927 and was leased to the Jewish Community until 1954 when they purchased the property.