Festivities At Rondekuil Country Estate
Posted on Thu May 12, 2022.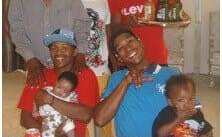 The Staff Christmas Party held within the Conference Venue at the Rondekuil Country Estate, was a very merry and cheerful occasion for the staff, residents and owners alike.
Everyone arrived while the sun was silently sliding away behind the historical Durbanville hills, and seized the opportunity to enjoy sun-downers and casual conversation on the veranda of the Conference Venue, before moving inside to indulge in the wonderful food prepared by a few members of the staff.   Up-beat pop music filled the air, staff bopped and weaved around on the floor to their hearts content, with the children devising their own "dance style" as well.  The meat (which was bought locally) was tasty and tender, the salads fresh, the French bread was, well, very French, and a wonderful supper was crowned by sharing age old  favourites of ice-cream and chocolate sauce as well as homemade cupcakes.
The Festive Season is always a very busy one for the Country hospitality and plenty of privacy.  An ideal setting to spend quality time with the family, and  "re-charge" ones batteries after a long hard year at the office !  At the Rondekuil Country Estate, our guests become our friends.