The Rondekuil Rabbits
Posted on Thu May 12, 2022.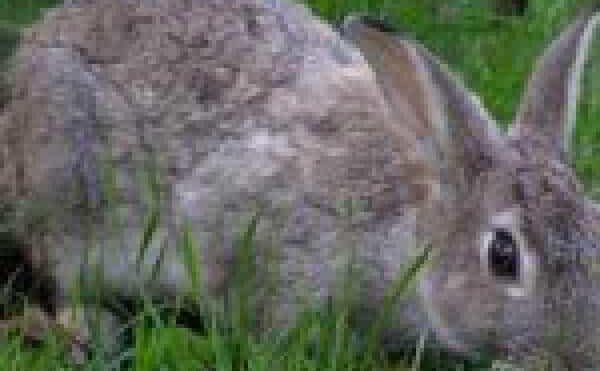 In 2008 the new owners of Rondekuil introduced four "Blue of Ham" rabbits onto the farm and since then, we have been fortunate to have free roaming rabbits hopping about the estate, enchanting and entertaining our guests and any other visitors. Our rabbits are predominantly the slate grey colour, some may call them a "blue", and, just for interest sake, the slate grey colour (or "blue") is what is known as a "self" colour in the rabbit world, which means that the rabbit is totally one colour, throughout, with beautiful smoke grey/blue eyes. Our rabbit colony live, shelter and breed in various areas around the estate, some under the wood piles in the large barn, others between the rubble in the side barn, some even in the woodworkers shed. They come out to graze in the early morning hours and later afternoon hours, providing much amusement and delight, as they hop and bop around the estate, quietly nibbling on the grass and other food supplements given to them. Because of the dry summer conditions, the rabbits are mainly confined to the 'werf'/residential area of the farm and their numbers seem to be kept in check by predators, mainly hawks and buzzards that prey on the young rabbits. Our rabbits are fast becoming a "trademark" of the RONDEKUIL COUNTRY ESTATE.
Not only our rabbits, but everyone on the RONDEKUIL COUNTRY ESTATE is currently experiencing the full effect of another hot summer season.  With temperatures reaching 35°C in the shade, all inhabitants, both human and animal are seeking shelter from the harsh African sun.
RONDEKUIL COUNTRY ESTATE offers affordable family "farmstay" holidays, and as our guests drive down our driveway lined with 100 year old Blue Gum Trees, they immediately sense the anticipation of enjoying an authentic and peaceful escape to the country, where each bedroom within our cottages present guests with un-interrupted country views, and guests truly experience the silence and peacefulness of escaping from the hum-drum of the city.  Guests and visitors can  enjoy safe farm walks and excursions, and also take a plunge in our swimming pool, or lounge in one of our comfortable deck chairs, listening to nothing but the occasional cow lowing in the field, the chirping of the birdlife, the call of a Fish Eagle and the authentic "sounds of silence"  only experienced when escaping to the country.
Both bed and breakfast accommodation, as well as self-catering accommodation are on offer,  and you can find out more information about that on our website of www.rondekuil.co.za .  Alternatively, please feel free to phone Richard on 082 336 0108 for a chat, and he'll gladly answer all your questions.