On The Wild (And Accommodation) Side, At Rondekuil Country Estate
Posted on Thu May 12, 2022.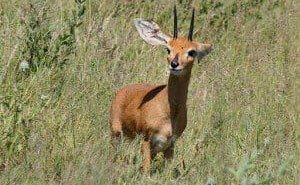 For the past five years, Maude and Marvin, a pair of Egyptian Geese, have used the "bottom" dam at the RONDEKUIL COUNTRY ESTATE to breed and hatch their chicks, and this year was no exception. Five healthy chicks were born the beginning of December, and due to diligent attention given by Maude and Marvin, the chicks have survived and are growing strong.
Apart from the Crows and the odd Yellow-Billed Kite, there's not much in the way of threats to the little chicks, who naturally, stay very close to their mother.
The family of Egyptian geese seems to have also "adopted" a Red Knobbed Coot, who spends most of the day floating around the dam with the geese family.
Very often, Steenboks are seen within the vicinity of the RONDEKUIL COUNTRY ESTATE, and over the past few weeks, it appears that a male Steenbok has "set up camp" in the long reeds growing next to the dam.  He lies low down in the long reeds growing alongside the dam, which, of course acts as wonderful cover to escape the heat of the sun, as well as to evade any possible predators.
As the mercury rises during our hot summer months, guests to RONDEKUIL COUNTRY ESTATE can escape the heat of the day by  taking a plunge in our swimming pool, perhaps an early morning dip, or even a midnight splash might appeal to some, whilst serious sun-worshippers can lounge poolside, and kick back with a cool drink.  All self-catering units for hire offer fridges to keep drinks cool.
Hiring our self-catering accommodation offered by RONDEKUIL COUNTRY ESTATE (11kms outside Durbanville), is more than just a "get-away" for our visitors, it's a country experience.  We also offer bed and breakfast accommodation, and you can find out more information about that on our website of www.rondekuil.co.za .  Alternatively, please feel free to phone Richard on 082 336 0108 for a chat, and he'll gladly answer all your questions.